Our
Large Sized
 Montessori Climber is made from
high end polished Birch Plywood
. The reason we use Birch Plywood because of how durable, robust, and flexible it is.  We only source and use high quality wood and materials. Our climbers are built to last for years!
Please see our reviews below, testimonial page, and instagram for more product pictures and reviews of our climber in use from our Montessori Families ! 
It's the reason why we are the premier designers of Pikler Triangles since 2018

!

 
We only sell LARGE sized climbers, unlike others who are selling a much smaller size, so please be sure to compare our dimensions to other sellers. ESPECIALLY THE HEIGHT ! 
Please be aware that our climbers are handmade and take time to build as every climber is made on an order basis - while other cheaper competitors are selling pre-packaged climbers made in China.
Our climbers are tested, sanded, and inspected thoroughly prior to shipping. We try our best to make sure your climber is perfect prior to shipping.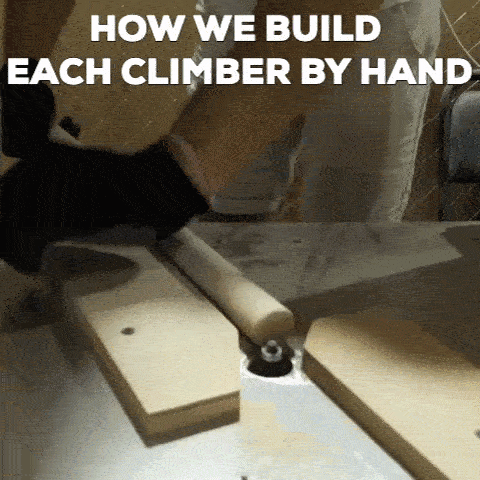 The ONLY thing I create and specialize in is Pikler Triangles. That's it. That's the only item you see on my website and that's because we firmly believe in mastering one art and spending all our time, energy, and money into building and perfecting it...and that's what we have accomplished. We have perfected, in our opinion, the best Pikler Triangle on the market. Many have asked me to create other Montessori products for them but we do not want to spread ourselves too thin and sacrifice the quality of our Montessori Climber. For us, quality is more important than quantity. We take our time with each climber as if it is our first.
For custom orders that require painting, we use only high-quality, ecologic water based paints, and environmentally friendly varnish. Due to the demand of our climber and the amount of orders we are getting at this time - we are not doing Custom Orders.

All parts of the product are hand made and sanded with great care, that is why we say to allow up to 7 days for us to make each one (most of the time it is quicker than this). We make sure that everything is brought to perfect condition so it is absolutely safe for children to use. 
The Pikler Triangle is an essential tool to raising children. Innately children are extremely mobile thus Montessori furniture are perfect for climbing and playing on. The Pikler triangle encourages the development of child's movement, agility and reaction skills. It is also an excellent simulator for legs, which helps prevent the development of children's flat feet.
The climber is tested at a load of 200 lbs, but the maximum load for use is 125 lbs. Recommended for children from 8 months to 8 years.
This is our speciality and passion. We pride ourselves on quality.
Our climber is shipped globally on a daily basis and trusted by over a thousand Montessori Families. 
Lastly, our climber folds in half for easy storage and has 2 locks for additional security when in use - unlike others!
Dimensions
Pikler Triangle:
Height: 81 cm / 31.8 inches (Open); 90 cm / 35 inches (Folded)
Width: 88 cm/ 34.6 inches(Open); 20cm / 7 inches (Folded)
Length steps 82 cm / 32 inches
Pikler Ramp:
Height: 100 cm / 40 inches
Width: 38 cm/ 15 inches
Pikler Arch:

Height: 47 cm / 18.5 inches
Width: 97 cm / 38 inches
Length: 52 cm / 20.5 inches
Shipping & Returns
We accept returns only within 14 days of sale due to COVID at this time. After that we can not accept returns.
All products must be shipped back in the condition they were shipped.
Buyer will need to pay for shipping charges. 
For more information see our shipping & returns page here.

Great Gift for All Ages
We bought this along with the ramp for our child's first birthday, and he played and played on it. His 5 year old sister did as well, in addition to some of her older friends. It was a hit!
So easy to put together a toddler could do it
I love how well made the climber is. It even supports my husbands weight. Our toddler had lots of fun helping us put it together and loves the balance board. Our toddler is still testing the waters on the triangle but he enjoys crawling under the arch.
Really fun!
My grandson is 15 months old and loves to climb. He knew exactly what to do with a Pickler. The slide is a great ad on. He's having a great time with it!
We love it!
My toddler (2,5 yo) could not wait for me to finish assembling it! Now she plays with daily and keeps discovering new ways to play. I got the whole set up - triangle, arch and the ramp. So far the arch is the winner. But it's been barely two weeks and there's more fun on the way.
Assembly was easy and straightforward (instructional video on the website).
The craftsmanship is absolutely amazing. This will last a lifetime for sure.
It was so worth the wait and money, I can't recommend it enough!
Best purchase!
Our 17 month old loves this!! It's the only toy she plays with now. She has always been a climber and this feels so safe. Our 6mo friend and 4 year old nephew had fun on it too for extended time. So happy we purchased this item! Arrived quick and was easy to assemble.