Watch Why Thousands Choose The Montessori Climber
Let customers speak for us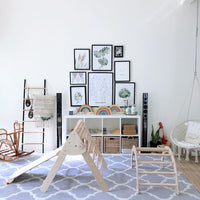 What is a Pikler Triangle?
A pikler triangle is much more than a children's toy instead it is a foundational tool used by thousands of families across the world. The triangle is the basis of Dr. Emmi Pikler's teaching which focuses on building freedom of motion, forging independent activity, and allowing children to increase their motor development skills starting from an early age. These triangles have now become a staple to the Montessori Method and seen in classrooms and homes alike. 
Why Should You Choose Us?
We have been building and crafting Pikler Triangles since 2018. We've gone through tedious hours of design and testing to finally arrive at what you see before you - The Montessori Climber. Our triangles are constructed by durable and authentic materials using the finest wood to ensure that your Montessori Climber will stay with you forever. In addition, we build each climber by hand and test each one individually before it leaves our workshop. Everything is internally made in our own workshop. What we promise is quality. Choose from our array of packages which allow you to customize your design from a simple triangle to additional accessories including slides, ramps and more!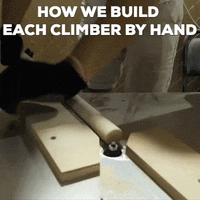 What is the purpose of a pikler triangle?
Here at Montessori Climber, we firmly believe that what we are selling is more than simply a "toy" or piece of furniture. Our climber is a tool that will aide in the development of every toddler/ child. Under the REI and Montessori philosophy of letting the child lead their own physical movement, our climber helps bolster one's mind and connection to the outer world.
In addition, one of the RIE parenting teachings is to prevent the child from being in compromising physical positions. That is where we come in by allowing children to explore their body limits in a safe manner. The Montessori Climber is a tool for helping children build that intrinsic motivation and progressing with gross motor skills. 
How does it help my child develop?
The Pikler Triangle poses a challenge for babies and toddlers, and the sense of accomplishment they and their loved ones get from completing it is amazing to see. More than anything, pikler triangles help with independence. That is one of the foundations of montessori teachings. They independently work on their motor development skills without even knowing it. This toy also encourages and builds on children's imagination. To them, our toy is more than a developmental tool - it's a rocketship, a pirateship or anything else they want it to be.
At what age is it safe to start using one?
While some like to state as early as 6 months, we agree with REI and Montessori Professionals in the recommendation of as soon as your little one is actively moving you can move the triangle into their "Yes space" to strengthen their trust with it. Remember, the "Yes space" is an area where the child feels completely safe. 
How long do they last?
Our Montessori Climbers are made to last - specifically for years. As long as the owner takes care of our climber, we expect expect them to last for a minimum of 5-10 years. We highly recommend to keep the climber indoors as much as possible to keep it away from rain and other elements. In addition, our wood is the finest wood for children toys, Birch Plywood, which is extremely durable.
Is it safe for my child?
Absolutely! Again, as long as proper supervision is in place there should be no issue with safety. Remember, most growing infants and toddlers are born with an innate sense of of understanding to balance and risk which prevents them from climbing when they do not feel ready. Now, that does not mean we should be putting them on the equipment. We should be allowing them to touch and feel the object and climb when they feel ready. 
When they are indeed ready, they'll start by pulling to stand and putting their feet on the rings to stand. Eventually, they'll start to climb higher and higher over the years right up to the top. It's an amazing thing to observe. Soon you'll be seeing their progression with how much their climbing and applying to their everyday activities.
Do you make anything else?
Nope. We soley focus on our Montessori Climber. We specialize in this and it's the only thing we put all our energy, time and effort into building and perfecting. We do not want to spread ourselves too thin and cut any corners in what is our most prized possession.
Why are they so expensive?
We can't speak for others, however our Montessori Climber is literally one a kind. Each one is hand made by our artisans in order to ensure a custom, perosnalized feel to each product. It takes time, materials, and hard work to put each together for your child to use- and we love every minute of it. There is nothing else we would rather do. However, in order to keep our shop operational we do need to cover our expenses.